A natural and effective alternative to help reducing arterial hypertension and cholesterol with no side effects.
Rich in natural antioxidants, polyphenols & anthocyanins to:
– Prevent risks
– Reduce the use of medical treatments, under medical supervision
– Act as alternative to medical treatments, under medical supervision
HIBISCOL®, a unique association of ingredients rich in polyphenols and anthocyanins, whose efficacy has been clinically demonstrated. Cholesterol and hypertension: discover the benefits of polyphenols and anthocyanins,antioxidants beneficial for the heart and arteries.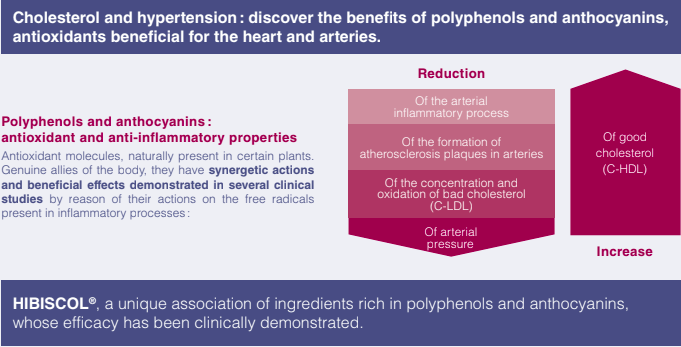 Ingredients: 
1 tablet of HIBISCOL® contains:
• 500 mg of extract of Aronia melanocarpa BIO
• 300 mg of extract of Hibiscus sabdariffa BIO
• 22 mg of total polyphenols 9 mg of which are total anthocyanins
• 0.6 mg of vitamin B1
Lactose and gluten free
90 tablets
Recommendation:
For Cholesterol: 
PRIMARY PREVENTION / HEALTH SUPPORT
Total cholesterol between 4.5-6.2 mmol/L: 1 tablet / day
SUPPORT OR NOT TO DRUG THERAPIES
Total cholesterol > 6.2 mmol/L: 1 to 2 tablet(s) / day
For arterial hypertension:
HEALTH SUPPORT
AP between 120/80 and 140/90: 1 tablet / day
SUPPORT OR NOT OF DRUG THERAPIES
AP > 140/90: 1 to 2 tablet(s) / day
In all situations, a change of lifestyle (balanced diet, physical activity, stress control, etc.) must be adopted in combination with HIBISCOL®
HIBISCOL® is taken before meals (morning and/or midday)
Adults and Children > 6 years
To date no contra-indications have been found. However, Hibiscus can sometimes produce a slight laxative effect.
* Only sold in Hong Kong